Know Your Teacher/Healer : Mrs. Hira Kelshikar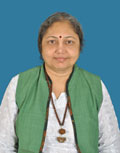 I was born Hira Pandey, the second of 5 children, 3 girls and 2 boys. I was born in Bombay, now called Mumbai. My parents hailed from the picturques mountains region of Almora in the Himalayas and had settled in Mumbai. I did my schooling in St Joseph's Convent in Bandra. I was able to enjoy the best of two cultures - the staunch Hindu culture at home and the Christian culture at school. While I would chant my mantras at home with my father I would religiously visit and pray at the school Chapel during break time. The memory of silence and inner peace I felt chanting my mantras and meditating in the Chapel are still with me and can be brought back to mind and felt/experienced to this day. Along with meditation and prayers I also performed my duties at home and at school - where I was class monitor, school prefect/leader. The short stories we learnt at the Moral Science class had a profound effect on me and I do quote the stories we learnt as and when the occasion demands. My guiding force in my early years was my friend Bela's father, Dr. MM Moolchandaney who presented me with a copy of the book on Bhagwad Gita written by Vinobha Bhave.
Before completion of my graduation in Commerce, I joined Bank of India at the age of nineteen and half. After completion of my graduation in Commerce and then Law, I became an officer of the Bank. I got married in 1980 and moved to Pune in 1983. My elder son was born in 1984 and younger one in 1986. While working at the Bank, both in Mumbai and Pune, I had an opportunity of closely interacting with people - staff as well as clients and could always get the best performance out of people, generally by building up their confidence and team building. I was the unofficial "agony aunt" and was playfully called the " Jagat Mata"/world mother. My advice on personal matters / relationships were sought not only by my friends and colleagues but also by my clients of the Bank.
In 1996, while returning home from work ( I was riding a scooter ) I met with a serious road accident at a place near Khadki and lost a lot of blood. I was helped by a good Samaritan who arranged for my immediate hospitalisation. That incident is still fresh in my mind for at that time, before help arrived, I had the out of body experience. I saw myself floating through a tunnel and had reached the opening but was held back by some magnetic force that kept my body floating near the opening but would not allow it to pass through! That incident was the turning point in my life.
I felt then that I was not only needed by my children who were young but that there was another purpose in not allowing me to pass through. I went back to my prayers and meditation and in 1998 I learnt Reiki 1 from Dr. Mukund Tabib of Pune. On the day of taking attunements for Reiki 1, I could cure the pain in my elder son's leg with just a 20 minutes treatment - he was a good soccer ( football) player and had pulled his hamstring muscle on making his third goal at an inter school match. After that incident there was no looking back - Reiki came to the rescue for one and all. In the year 2001, I learnt Reiki 2, just before my transfer to Breach Candy Branch as Chief Manager. I also visited the Ashram of Gurudev Ranade at Nimbal. He had retired as Vice Chancellor of Allahabad University and like my father in law was a Professor of Philosophy and Psychology. He had learnt his lessons in life from a simple shepherd - whom he accepted as his Guru.
I also did my first level course in Art of Living in Mumbai and accepted Sri VV Ravishankar - fondly called Gurudev - as one of my gurus. Six months later I did my Art of Living level 2 in Pune and also did shahaj - which helps me to connect instantly with my higher self while meditating. During that time I visited the Sai Baba temple at Shirdi and also did the "Ashta Vinayak" yatra - a two day pilgrimage visiting and praying at 8 Ganapati ( Ganesh ) temples in Maharashtra. I met and interacted with several like minded friends and seniors. It was as if a 30 year void was being filled and I visited several temples in Pune, Mumbai, Bhubaneswar and Indore. It was a massive cleansing of my Body and Soul.
In mid 2004, I was posted in London. Here I found that there were several like minded people who believed in natural healing and I was fortunate to be introduced to Dr Taggart King - founder of Reiki Evolution. I did my Reiki Master/Teacher course in October 2006 with Reiki Evolution - my teacher was Laeticia Jones - who has now moved to Cornwall. I had the opportunity to teach Reiki 1 to friends and their relatives. Later I taught 6 of them Reiki 2 also. My youngest student in Reiki 2 was hardly nine at the time. I felt compelled to teach her and she showed a lot more interest in learning/practising the Energy exercises - and had practised and mastered the drawing of the symbols much better than her parents had.
In December 2009, I returned to India and helped nurse my father in law - Prof. S H Kelshikar. He was 88 years of age and had never visited a doctor/hospital except for his cataract operations. He was a Professor and Head of Department of Philosophy and Psychology in Parle ( now known as Sathe ) College in Mumbai and in my various interactions with him - he had repeatedly stressed that one can cure oneself by auto suggestions and listening to your body - which he did ! His favourite sentence was " I know my body better than the doctor does - I will allow my body to cure itself by giving it auto suggestions." It was as if I intuitively knew that he would not be with us for very long and so I decided to take early retirement from the Bank to look after him. He lost his younger brother at the time -when he himself was admitted in hospital - and I saw and heard him talking to his younger brother, inviting him for lunch. I later learnt that his brother had breathed his last at the time when he was being invited for lunch. I could feel the presence of the spirits - as if he had come to bid adieu to his older brother or may be take him along? I know had I not been giving him Reiki, he would have left us at more or less the same time as his brother left this world.
I know that my performance and good career at the Bank was mostly due to the fact that Prof. Kelshikar was at home to take care of my sons. He provided them mental stimulation and encouraged them in their games as well as studies - he would discuss philosophy, psychology, politics, art, Sanskrit, physical activities/ games like football, cricket, boxing etc and at the same time make them discover the beauty of the plays of Shakespeare, the world renowned poems like Daffodils written by William Wordsworth. Under his tutelage, the children were also acquainted with the stories of Panchatantra, Mahabharata and Ramayana! A combination of East and West, spiritual/cosmic and hardcore logic.
He knew he was nearing his end and had told me that I should continue with my healing studies/work. So I returned to London to further quench my thirst of Reiki and other healing methods. I already had the Indian culture with me - now I sought the western outlook into the eastern culture/healing. I reconnected with my Reiki Evolution group and met a wonderful teacher in Kay Gillard from whom I learnt Blockage removal, Cord cutting, Intuitive healing, Reiki Drumming, Journeying and so much more! Kay is a friend, philosopher and guide. She has a beautiful melodious voice and sings bhajans/chants Mantras - she is also a Ganesh and Shiva Bhakt. I also attended a Reiki Retreat in Kent - organised by Kay and conducted by the world famous International Reiki Master and writer of over 8 books on Reiki - Sensei Frank Arjava Petter. Arjava as he is fondly called, told me that he had come to Pune at the age of about nineteen to bring his elder brother back from the Rajneesh Ashram - to Germany - but had stayed back to become the disciple of Acharya Rajneesh - later called Osho. So Arjava too learned his first lessons in meditation in Pune. He has presently shifted from Germany to the Greek Islands of Lesvos and has named his Center as " Osho Afroz Meditation Center", Eressos, Greece. The three days spent in Kent with Arjava and over a two hundred Reiki Masters have left a distinct mark on me!
I had the opportunity of learning the 5 Element Reiki with Tina Shaw
( www.absolutereiki.com ) and all the 5 case studies I did informed me that the energies were very strong. I also learnt Equine Reiki Level 1 and 2 with Sarah Berrisford at Lincolnshire ( www.epona-equine-reiki.co.uk ) and have fond memories not only of Sarah and her sister Vicky but also of all their horses especially Toby, Pancha and Zorro. From just knowing one end of the horse from the other - I became a confident Equine Reiki Practitioner and horse lover.
Bhavna who was my fellow student in Intuitive Healing became my teacher in Crystal Healing ( www.lifehealingvalues.co.uk ) My confidence in Psychic Reading is due to Kay Gillard and Bhavna. I have also learnt EFT 1 and 2 from Peter Donn
( www.london-eft.co.uk ) and have attended a workshop on Weight Loss and Self Image conducted by Sue Beer and Emma Roberts ( www.theeftcentre.com ) I had been receiving Gary Craig's EFT Newsletter for almost 2 years but had not done much about it. My introduction to EFT was through a workshop I attended with Marilyn Harvey who is also a Reiki Master Teacher. I am indeed thankful to her for that. I am a Practitioner - member of AAMET.
I have also developed an interest in Runes - I was a case study for Kay's friend Magin Rose ( www.maginrose.com ) - and have attended a course on introduction to Runes with her. The concept of Runes as explained by Rune Mistress Freya Aswynn is " the song or sound of the coming into existence of the Universe". Magin made us pick a Rune from her Rune bag and we had to work with it as our personal Rune for the day. Can you believe - the one I picked up was "Othala" which is connected with home and homeland, associated with happy feelings and memories and is the hereditary state of the Self - both physical and spiritual. So my destiny ( returning home and spreading the knowledge of the different forms of energy ) was already ordained by the Runes!
My Intuitive Healer's group - Bhavna, Erin, Corinne, Kelley and myself - had continued meeting regularly even after completion of our 6 month's course - we have experimented with energies at various levels - done several meditations connecting ourselves with the Elements/Nature. We have together done a lot of Tarot/Oracle Card Reading and are able to intuitively reach out to each other. We call ourselves the " Butterflies" and had a wonderful 2 day trip to Glastonbury where we visited the Chalice Wells and did meditation and Mantra Chanting atop the Tor!
With such a wealth of knowledge and experience and good wishes of all my mentors and friends, and as ordained by the Runes - I have now returned to Pune to start my own healing centre called " Vibrant Energies"( I would like to share one of the many recent experiences of the vibrancy of Reiki - . On 20th October 2010 I was visiting a friend's place for lunch. As I entered her building compound I saw 3 people around a pigeon and stopped to find out what the matter was. I was told by one of the onlookers that the pigeon has been trying to fly since morning but was unable to do so. There were no visible injuries and it was a fully grown up bird. I crouched down near it and holding my hand over it gave it Reiki for about 10 minutes - it kept turning it's head and looking at me. I noticed that it had one orange and one brown coloured eye. After giving it Reiki for about 10 minutes, I stroked it from head to tail 3 times and moved away - I requested one of the onlookers to pick it up and keep it at the edge of the compound near the trees - and while she bent to pick it up, the pigeon simply spread it's wings and flew away! It made me feel as if it was waiting for Reiki since morning! Seems unbelievable but is true! )
I am indeed thankful to my husband and my sons and other family members who have supported me in my healing journey - often allowing me to practice on them. I am also thankful to all my friends who have been my case studies - allowing me to practice on them and no doubt getting the benefits of the energy works from my practice while I learnt more with each case study, particular mention must be made of Mr and Mrs Pai, Mr and Mrs Deshpande, Mr and Mrs Khanna and Hazel Wells of London. I am thankful to Dr Taggart King ( www.reikievolution.co.uk ) who is my teacher and inspiration and Kay Gillard ( www.pureenergyhealing.co.uk ) who not only taught me so much and allowed me to sit on her Reiki Master Courses - but is also a firm friend and has promised to visit me in India when we have a retreat.
I want to share my knowledge with you and help you achieve your highest potential with Energy which is Vibrant and which is always for your highest good. I follow the Reiki Precepts as laid down by Dr Mikao Usui - the founder of Reiki. I have experienced that living in the Moment and being true to yourself rids you of your sickness and dis-ease and makes life more enjoyable and meaningful.
I will conduct various Courses, have Mantra Sessions Reiki Shares, Shamanic Circles and will also provide treatments to humans and animals like dogs and horses.
So do contact me and be part of the Vibrant Energies. If I can help You , Your Family, Friends, Dogs, Cats and Horses and bring them the greatest joy of vibrant health happiness and vibrant energies I would indeed be happy to meet you!
With lots of love and ((((((((((( reiki blessings )))))))))))
Hira Kelshikar
Reiki Master/Teacher,
Drum Healer/Teacher,
Intuitive Healer,
5 Element Reiki Healer
Crystal Healer,
EFT Practitioner,
Equine Reiki Practitioner.